I don't have a grounded outlet near my toilet!
Updated 6 months ago
We're happy to help you with any outlet-related issues you might have in installing your TUSHY Ace!
Do you have a grounded 3-prong electrical outlet, but it's just not within three feet of the toilet? In that case, you'll need an extension cord. We've got a few recommendations for extension cords here, but any 3-prong extension cord should be fine.
If the distance from the toilet to the outlet isn't the issue, continue reading!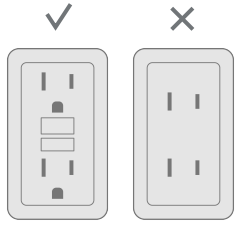 If your outlet looks like the one on the left, that's a GFCI outlet. You're all set to install your TUSHY Ace!
If it looks like the one on the right, you'll need to get an electrician to replace that outlet with a GFCI 3-prong outlet.
If you don't have an outlet in your bathroom at all, you won't be able to install the TUSHY Ace. You can install an outlet through TaskRabbit or check out the TUSHY Spa instead!
Was this article helpful?