How do I use the TUSHY Ace remote?
Updated a year ago
If you can rock an Apple TV remote, you will master the TUSHY Ace controller in seconds as they look and feel quite similar. Here's a visual rundown on remote features: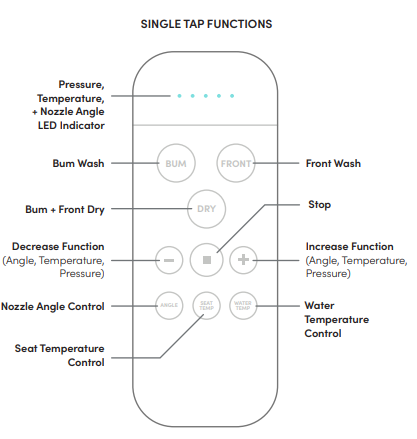 To operate your TUSHY Ace with the remote, tap the setting button you want to change:
Then use the increase or decrease buttons to adjust that setting. Next, press Bum or Front wash to activate the spray, at which point you can adjust the pressure of the spray by using the increase or decrease buttons. You can also change these settings during operation to fine tune your preferences.
Once you have completed your wash, tap the Dry button to activate the bum dryer. The increase and decrease buttons change the temperature, not the intensity of the bum dryer. Use the Stop button to stop any function.
Special functions/modes
Oscillating Power Wash
Double click the Bum or Front wash buttons to activate the power wash setting which will oscillate the nozzle during wash sequence.
Manual Self-Cleaning Function
Press and hold the Seat Temperature and Water Temperature buttons for 5 seconds to activate the self-cleaning function. The Ace automatically cleans the nozzle after every use, but you can do it manually too if you're a clean freak!
Soft Reset
Press and hold both the + and - buttons for 5 seconds to reset the TUSHY Ace to factory conditions. Try this if your Ace is acting a little funky.
Mute Function
Want Ace to whisper softly into your rear? Activate the Mute Function by holding the stop button for 10 seconds. After 5 seconds, you'll notice the lights turning white—keep holding! These lights will act as a visual countdown for 5 more seconds. Once they turn completely off, you're muted!
If you want to unmute, just follow the same steps outlined above!
Lost remote, dead batteries?
Check your couch cushions! If you still can't find it, TUSHY Ace has a simple spray function that can be accessed on the side of the bidet. To operate the Bum or Front wash, press the corresponding button once to activate, and again to stop. To operate the Dryer, press the Dry button once to activate, and again to stop. Please properly dispose of old batteries.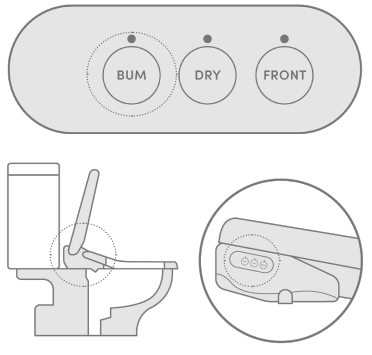 If you need new batteries this will be indicated by the lights at the top of the remote which will light up in red instead of green. The TUSHY Ace remote uses three AAA batteries.
If you need a new remote, please reach out to a TUSHY Ace Poo-Ru for an assist!
Was this article helpful?